2018 Diocese of Tulsa Parish
Summer Catechetical Program
Totus Tuus, a Latin phrase meaning "totally yours", was the motto of Saint Pope John Paul, II. Taken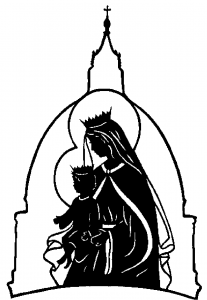 from St. Louis de Montfort's True Devotion to Mary, it signifies our desire to give ourselves entirely to Jesus Christ through Mary.  Totus Tuus calls upon college students and seminarians to carry this mission to every person they encounter in the parish program.  Students are hired for their Energy, Enthusiasm, Love for their Faith, Commitment to Spiritual Growth, Ability to Work with a Team and Desire to Work with Youth!  Through the teams' example of joy and service, the youth of our parish see that these men and women are ON FIRE with the Catholic Faith and Long for the same thing in the lives of our youth!
The theme for Totus Tuus this year is The Sacraments, the Mystery of the Rosary is the Sorrowful Mysteries.  Students going into 1st – 8th grades in September 2019 attend during the day – Monday through Friday from 9 a.m. – 3 p.m.  High School students are encouraged to help in the classes and attend Sunday – Thursday evening 7:30 – 9:45 pm.
So what happens during this week?  Each morning the T.T. Teams prepare the students for the day with "Pump Up", the student enthusiasm is ready as they go and grow in the understanding of their faith in Jesus Christ.  We end each day with "Pump Up" to review and prepare them to share what they learned.
Monday morning the T.T. Teams gather the students by grades then split them up into smaller groups.  If your child wants to be with their friend – they just need to say and their request is granted.  The style of teaching is designed to help the students quickly learn about the theme and prepare to attend Mass every day, those in 3rd gr. & up have the opportunity to receive the Sacrament of Reconciliation during the week.
Here are a few statements from some of our own parishioners about their experience at Totus Tuus:
        "I loved it and can't wait to go again!" from Maureen in 3rd grade.
From Maureen's Mom: "Two years later, Maureen remembers the 10 Commandments in order!  She learned this because of the teaching style the Totus Tuus teams used:  You will not bear false witness against thy neighbor (they used actions to help with word association). Maureen was faithful in wearing the different colored yarn each day because of what they stood for (this is something they give the children each morning)
All those registered by May 22nd  will receive a t-shirt.  Registration is open until  Wednesday, June 5th.
2021 Totus Tuus Registration Form
2021 Totus Tuus Volunteer Registration Form