Activities shown here are always current. If you have any questions about the shown events, feel free to contact Deb Malcom at the church office using the number (918) 455-4451 ext: 230 or cell at (918) 498-1144.  Most Youth events may also be on the Commons tables.
Save the dates for these children and youth programs at St. Benedict! For more information, contact Deb or Lisa in the church office.
Phone: (918) 455-4451
TOTUS TUUS! June 6-10, 7:30-9:30 PM for those who will be in 9th-12th grades in the Fall.
June 7-11, 9 AM to 3 PM for those who will be in 1st through 8th grades in the Fall.
LIFE CAMP! June 14-18, 8 AM to Noon, for those who will be in 4th-8th grades in the Fall. Attend daily Mass and pick two "activity sessions" (soccer, upcycling, journaling, science, drama, gardening, or dance). There will be a "dinner theater" Friday night! Register by May 26 to be guaranteed a camp t-shirt. For more info, contact Deb in the church office.
Middle School 4 x 4! June 21-24, 1 to 5 PM for those who will be in 6th-8th grades in the Fall. Four days in a row x four hours each day=four activities that you are sure to enjoy! Meet and conclude in the youth room each day. Please text Deb to RSVP by Wed. June 16.
Mon. June 21: KIDS AGAINST HUNGER! Help make food packets for those who are malnourished here in Oklahoma and around the world.
Tues. June 22: LUCA! See this new Pixar movie at a local theater. $8 (you can pay that day), plus money if you want concessions.
Wed. June 23: We will split into two groups; one will do service work at the Day Center for the Homeless or Catholic Charities, and the other group will do "Adopt a Mile". (Both groups will need to wear tennis shoes)
Thurs. June 24:  KYZONE! $14 includes two hours of jumping and "Sky Socks" (you can pay that day). Bring extra money if you want concessions.  Parents, please fill out the online waiver at www.skyzone.com/tulsa.
Vacation Bible School! June 28-July 2, 9 AM to Noon, for those who will be in Pre-K through 4th grade in the Fall. (Those in 5th-12th grades are invited to volunteer—contact Lisa for more info)
Frontier City! July 7, 8 AM to Midnight, for those who will be in 6th-12th grades in the Fall.
Middle School 4 x 4! July 26-29, 1 to 5 PM for those who will be in 6th-8th grades in the Fall.
High school youth group will continue to meet on Wednesdays through the summer—watch the bulletin or contact Deb for more info.
---
Further Information
High School Youth
Our high school youth group meets on Wednesday nights. Activities vary between service projects for groups such as Day Center for the Homeless, Birthright of Tulsa, Joy in the Cause, or Catholic Charities, spiritual activities such as Praise Nights or bible study, or social activities like lock-ins, swim parties, and "squad wars". Most activities begin in the youth room around 7 p.m., but locations and times can vary depending on the activity. Check the youth calendar on this web page, or call/text Deb Malcom at 918-408-1144 to find out what is coming up.
Mission Trips:

• Catholic Heart Work Camp: Most summers during June or July, St. Benedict youth travel to a location in the United States to attend CHWC. At CHWC, youth are divided into work groups with youth from around the country and assigned a service site to work at Monday through Thursday during the day. In the evenings, CHWC staff lead games, devotionals, and praise and worship, and priests offer daily Mass, Reconciliation, and Adoration of the Eucharist to our campers. Friday is "free day" to visit a fun site in the area. For more info about CHWC, visit www.heartworkcamp.com.
• National March for Life: St. Benedict youth travel to Washington, DC with youth from the Diocese of Tulsa to participate in the National March for Life every January.
• Steubenville Mission: St. Benedict youth attend the Steubenville youth conference every summer. For a three or four days before the conference, youth do service work in Springfield, MO., or in another area that is on the way to the conference. For more information about the Steubenville conference, visit www.steubenvilleconferences.com.
• Lourdes, France: St. Benedict youth (16 and older) and young adults will travel to Lourdes, France in June 2020. This trip is truly a mission because our group will care for the sick who are making a pilgrimage to Lourdes for ten days while they are there. For more information, visit www.lourdesvolunteers.org.
Fund Raising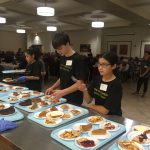 Often our high school youth need financial help attending the mission trips and other St. Benedict youth activities. Youth can participate in a variety of fundraisers, including Breakfast Burritos, bake sales, etc. Some fundraisers are reserved specifically for the Lourdes Mission or World Youth Day trips; some of these fundraisers include selling Christmas wreaths, Amish Jam, religious statues, etc.
TYME Leadership Team

St. Benedict juniors and seniors can apply to be part of the TYME team. TYME stands for "Total Youth Ministry Experience", and its mission is to engage our 5th through 12th-grade youth in catechesis and community. The TYME team plans and facilitates religious education classes for our 5th through 10th-grade students once a semester, as well as a Saturday retreat for 5th/6th-graders, a lock-in for 7th/8th-graders, and a weekend retreat for high schoolers each year.
Middle School Youth
The Church of St. Benedict offers many activities for our youth in 6th, 7th, and 8th grades:
Summer 4 x 4:  Four days x Four hours each day = tons of fun!  Monday through Thursday during a week in June and a week in July, middle school youth meet in the youth room at 1 p.m., return to the youth room at 5 p.m., and go on a fun field trip in between!  Two days of the week we go somewhere like Catholic Charities or Broken Arrow Neighbors to do a service project.  On the other two days, we go somewhere like SkyZone or Nienhaus Park Pool to play.
TGIF: TGIF (To Gather in Faith) meets on Friday nights at 7 p.m., September through April (with the exception of school holidays and Fridays during Lent).  Some Fridays we stay in the youth room for bible study, "nerf night", service projects, or "drama nights".  Other Fridays we go somewhere for laser tag, ice skating, hayride, etc.  Ending times vary depending on the night's activity.
CLP: For the first three or four Fridays of Lent, our middle school youth host a program with music, skits, games, and arts and crafts for the preschool and elementary school children.  The middle school youth arrive at 5:45 p.m. for a cheese pizza dinner and to set up for the night.  The younger children join us from 6:15 to 7:30 p.m.  At 7:30, we join our parish community in praying the Stations of the Cross.
Diocesan Activities: Our St. Benedict youth join with other middle school youth from the Tulsa Diocese for an overnight summer camp, and JCYC ( Jr. High Catholic Youth Conference).