Pastor's Message – Church of Saint Benedict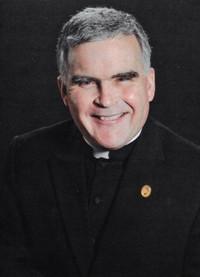 Friday, September 23, 2022
Memorial of St. Pius of Pietrelcina (Padre Pio), Priest
O God, who manifests your almighty power above all by pardoning and showing mercy, bestow, we pray, your grace abundantly upon us and make those hastening to attain your promises heirs to the treasures of heaven. Through our Lord Jesus Christ, your Son, who lives and reigns with you in the unity of the Holy Spirit, God, forever and ever.
Collect for the Mass on the Twenty-Sixth Sunday in Ordinary Time
Brothers and Sisters,
This Sunday at Mass, we hear another familiar parable as Jesus teaches another Lesson in Discipleship. In the Parable of the Rich Man and Lazarus (Luke 16:19-31), Jesus continues the theme of how power and wealth can blind us to the Kingdom of God. Such blindness can have eternal consequences. In the case of the Rich Man, it is eternal damnation.
In the parable, we are told of two men, Lazarus, who lives and dies in extreme poverty. The Rich Man lives and dies in extreme wealth. The role reverses in death. The Rich Man suffers in torment while Lazarus is in heaven. The lesson is not that God is a God of punishment and condemnation; it is the role we play in our own salvation.
Notice the Rich Man's sense of entitlement and complacency. The refusal to relieve Lazarus' suffering is a symptom of the problem. For the Rich Man, people only have value if they are useful to him. Since there was nothing Lazarus could do for him, the Rich Man is oblivious to his suffering. There lies the heart of the matter.
He carries this attitude even in death. In the afterlife, Lazarus now has value but only as a servant to bring temporary relief from the Rich Man's own suffering. "Send Lazarus to dip the tip of his finger in water and cool my tongue."
The Rich Man contrasts with Catholic teaching on the dignity of each person. We must have reverence for all people without exception. Everyone has value from the moment of conception to the moment of natural death. His complacency and entitlement cause the Rich Man to commit the sin of omission. This sin causes his damnation.
Keep this parable in mind when Pope Francis speaks of a "Disposable Culture". Today, too often people are valued only to the degree that they are judged as useful. Those bearing youth, strength, beauty, wealth, and status are valued. The elderly, disabled, sick, and poor can be seen as worthless in our culture. As disposable.
Those who can be used to satisfy our needs and desires are valued. Those who cannot are not worthy of our attention. They can easily be ignored and discarded from our life.
Who is our Lazarus? Who are the ones we are oblivious to because we see no value in them? We are blind to Lazarus – whoever he, she, or they may be – at our own risk, both in this life and the next.
Our Parish
This weekend we will celebrate Priesthood Sunday. Prayers and blessings will be offered at all Masses, especially for those priests who have served our parish and those whose priestly vocations were nurtured at St. Benedict.
Catechesis of the Good Shepherd (CGS) is a new part of our parish's Faith Formation. Designed for children ages 3-6. It is based on the Montessori style of learning. The response to CGS has been so positive that a third session was added to the schedule. In addition to meeting on Sunday morning and Wednesday evening, a Monday morning time is now available! Please contact Lisa Remmert at lisaremmert@saintben.org for more information.
There has been an outstanding response to That Man Is You (TMIY), the new men's ministry at the parish which meets Wednesdays from 6:00-7:15 am. Due to the parish garage sale, this Wednesday TMIY will meet in Room 101. For more information or to register for TMIY, contact Ron Goodeyon at goodeyon@earthlink.net.
The Parish Garage Sale is September 29-October 1. Items for the sale can be brought to the parish hall starting on Tuesday, September 27. We are in need of clothes racks for the Garage Sale, so if you have any extra to lend, please put your name and phone number on them and drop them off in McGuire Hall North so we can return them to you after.
Our Annual Guardian Angel Mass will be on October 1 (First Saturday) at 8:30 am. We offer it for the special intentions of those who have experienced the death of a child. Normally offered on the Feast of Guardian Angels on October 2, it has been moved since that date is on a Sunday this year. Please reach out to those who have lost a child and invite them to this special time of prayer.
The Annual Pet Blessing will be on Sunday, October 2, at 2 pm in the parking lot. All pets should be either on a leash or in a carrier.
God bless and keep you safe.
Father Bryan