Pastor's Message – Church of Saint Benedict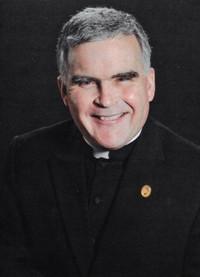 June 27, 2022


Wednesday in the 17th Week of Ordinary Time
The Oklahoma-born priest and missionary Blessed Fr. Stanley Rother was martyred on July 28, 1981, in Guatemala. This weekend, parishes throughout our state have the option to celebrate his memorial in place of the regular Sunday Mass.
We will be doing so at the Church of Saint Benedict. The Scripture readings for the 18th Sunday of Ordinary Time will be used. However, there will be prayers offered at the Mass that are particular for the memorial of a martyr. The priest and deacon will be in red vestments to signify the blood shed by Blessed Stanley out of the love of Christ and his parishioners.
Please continue to pray for the canonization of Blessed Stanley. A shrine in Oklahoma City built in his honor will be dedicated later this year.
God bless and keep you safe.
Father Bryan