Pastor's Message – Church of Saint Benedict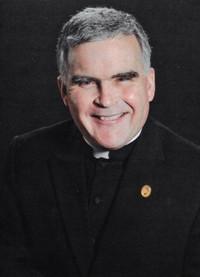 Friday, January 20, 2023
Memorial of St. Sebastian, Martyr
Almighty ever-living God, direct our actions according to your good pleasure, that in the name of your beloved Son, we may abound
in good works. Through our Lord Jesus Christ, your Son, who lives and reigns with you in the unity of the Holy Spirit, God forever and ever.
Collect for the Mass on the Third Sunday in Ordinary Time
Brothers and Sisters,
"Come after me, and I will make you fishers of men" (Matthew 4:19).
With these words, Jesus calls the first four of His disciples, fishermen from Galilee. They are Simon who is called Peter, his brother Andrew, and brothers James and John, the sons of Zebedee. In response, they immediately leave their occupation and even their family to follow Jesus.
Both the invitation and response are key characteristics of being a disciple of Jesus. The norm was for disciples to seek out a teacher from whom they wished to learn. But in this case, the invitation was initiated by Jesus. Simon Peter, Andrews, James, and John, who were minding their own business. They were going about the tasks of everyday work. If they were not casting their nets into the sea, they were repairing them. There wasn't any preparation for this encounter with Jesus.
Jesus invited them to do more than give an intellectual assent of faith. He invited them into an active mission. From then on, they would not be seeking fish to fry but souls for the kingdom of heaven. Jesus worked through them to invite others to be touched and transformed by God's infinite love and mercy.
The response of the fishermen was immediate and complete, no goodbyes to family, and no strategic plan with goals and timelines worked out first. There was something compelling about both Jesus and the invitation that brought about an immediate response. Not knowing what lay ahead, they left the boats, nets, and family to follow Jesus.
We will hear this invitation by Jesus in the Gospel reading at Mass this Sunday. In preparation, we should reflect on our very own response to Jesus. The invitation to follow Him doesn't need to come in spectacular supernatural events. It can come amid the everyday tasks of life. Even when we think of minding our own business, Jesus is there, inviting us to follow Him.
We are to make more than reasonable affirmation of belief in Church doctrine, as important as that is. We are invited to be missionary disciples. We are sent to bring Jesus to people and people to Jesus. He will act through us to invite others to be touched and transformed by God's infinite love and mercy.
Our Parish
Our condolences go out to the family of Kenneth Groth, who died on January 7 after a long illness at the age of 67. His funeral service will be on Friday, January 27 at the Floral Haven Chapel starting at 10:00 AM.
Congratulations to the Stone family, who will present a child for baptism this weekend.
Several of the high school youth and adults of our parish are taking part in the March for Life in San Francisco, California, this weekend. Please keep them in prayer as they make a peaceful witness to the dignity of life from the moment of conception to the moment of natural death.
The Day of Prayer for those preparing for First Communion is this Sunday. They will have their First Reconciliation on Wednesday evening. Please keep them in your prayer.
Michael Knipe will be speaking at St. Benedict on Tuesday, January 24, on the topic of the Annulment Process. He is the Judicial Vicar for the Diocese. The event is open to all. A social in McGuire Hall North starts at 6:30 PM. The presentation will be at 7:00 PM in the church. Fr. Knipe's presentation will be live-streamed on both our Facebook and YouTube channels.
That Man Is You (TMIY) has resumed. This men's ministry meets on Wednesdays in McGuire Hall from 6:00-7:15 AM. All the men of the parish are invited to participate.
Saint Scholastica Chapel will be open for a special time for perpetual adoration on Thursday, February 9 through Sunday, February 12. The intention is for the ACTS Women's Retreat Team. You may sign up at these links here:
https://www.signupgenius.com/go/10c0f45aba72ba3fcc25-acts5#/
https://www.signupgenius.com/go/10c0f45aba72ba3fcc25-acts6#/
For Catholic Schools week, we ask that all students wear their school uniforms for the weekend of Jan 28/29.
The Together in Holiness Conference Series is scheduled for this upcoming February 18 from 11:00 AM-6:00 PM at St. Anne Catholic Church. This marriage conference will be for married and engaged couples throughout the Diocese of Tulsa. Registrations are available online at togetherinholiness.org.
Our Annual Lenten Mission will be on Monday, February 27, and Tuesday, February 28. Deacon Michael Loeffler of Christ the King Parish will preach the mission. More details will be coming soon.
God bless and keep you safe.
Father Bryan