Pastor's Message – Church of Saint Benedict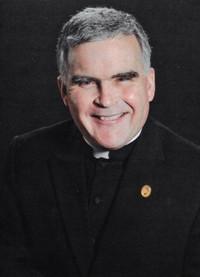 May 6, 2022
Friday of the Third Week of Easter
Brothers and Sisters,
"My sheep hear my voice; they follow me" (John 10:27). This upcoming Good Shepherd Sunday is also the World Day of Prayer for Vocations and Mother's Day. Our prayers this Sunday will include, but not limited to, those called to a vocation to the priesthood, diaconate, religious life, consecrated life, and dedicated singles.
A vocation is a distinct way of life in which God calls us to live. Our primary vocation is to live out the promises of our baptism. We are to reject sin and Satan, and be faithful to Jesus Christ. We are to desire to seek holiness and eventually to be saints. This is the reason that God created us.
How we live out this primary vocation can happen in a variety of wonderful ways. Discerning this specific vocation is perhaps the most important thing that we can do. When cooperating with God's grace, we can begin to see meaning and purpose in our lives. Without acceptance of our specific vocation, it's easy to go through life like a boat without a rudder. Such a life can be aimlessly and without focus and meaning. Our understanding and pursuing the state of life that our vocation calls us to is vital.
For the vast majority of the baptized, Jesus the Good Shepherd calls them to the vocation of marriage and family. While we often hear about a vocation crisis concerning the priesthood, allow me to suggest that the real crisis is in vocation of marriage and family.
For starters, do we see this state of life vocation as a vocation, or simply as a cultural norm? In the sacrament of marriage between a man and woman, God needs these two individuals to come together as one. This union mirrors the union with Christ, the Bridegroom, and us, the Church, as the Bride.
God calls men and women to be living witnesses of the presence of grace in the most basic of human relationships, the family. The specific vocations, including holy orders, religious life, and the consecrated life, are formed and nourished in the vocation of marriage and family. The more that this vocation strengthens, the more the others will flourish, for the glory of God and the salvation of souls.
Concerning vocations to holy orders and the religious life, thank you for making our parish a place where men and women are free to discern their vocation. This includes the five priests so far ordained from St. Benedict, a growing number of permanent deacons and religious vocations. It also includes the number of couples who are married here and the young families seeking to raise their children in the faith. It includes singles, the widowed and divorced, who seek to live a life worthy of the name of Christian.
Congratulations
Congratulations to the children of our parish who received the first of many Holy Communions last weekend. We had two different groups, the first at the Saturday Vigil Mass and the second at the Sunday Noon Mass. A third group will receive their First Communion on May 22 at Holy Family Cathedral.
First Saturday
Mass on First Saturday, May 7, will be at 8:30 am, with a Rosary to follow at 9:00 am. Confessions will be at 3:30-4:45 pm.
Synod Listen Session
Our parish listen session for the diocesan synod is tomorrow, May 7, from 1:00-3:00 pm in McGuire Hall. All are welcome.
Appreciation Brunch
There will be an appreciation brunch for all parish volunteers on Sunday, May 22 after the 9:00am Mass. Please RSVP by May 16.
Summer Seminarians
There will be two seminarians assigned to our parish for the summer, Robert Williams and Luke Zehr. More details when they will be arriving will be announced later.
Porter's Farwell & Fr. Alessandro's Arrival
Father Porter's final weekend at St. Benedict is June 18/19. He will preach at all the Masses. Fr. Alessandro's first weekend with us will be July 9/10.
God bless and keep you safe.
Father Bryan