Pastor's Message – Church of Saint Benedict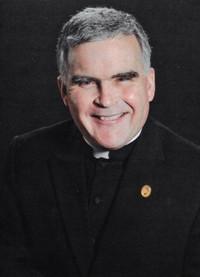 September 15, 2023
Our Lady of Sorrows
Look upon us, O God, Creator and ruler of all things, and, that we may feel the working of your mercy, grant that we may serve you with all our heart. Through our Lord Jesus Christ, your Son, who lives and reigns
with you in the unity of the Holy Spirit, God, forever and ever.
Collect for the Mass on the Twenty-Fourth Sunday in Ordinary Time
Brothers and Sisters,
My late Dad was 15 years old when the Second World War in September 1945. He was too young to serve in the military. His older brother was in the Army but had only finished basic training when the war came to an end.
Among my dad's memories of growing up in Oklahoma during that time was the rationing of items judged vital for the war effort. This included meat needed to feed those in the military, rubber for tires, and gasoline. This last one was needed to fuel trucks, tanks, and airplanes. The civilian population was willing to sacrifice such commodities in order to win the war and bring their loved ones home.
Today, many of us live with an abundance of material goods that my dad's generation could not have imagined 80 years ago. The rationing that we do today is driven by economics. Inflation has driven up the cost of just about everything, including food, clothing, housing, and fuel.
The Gospel that we will hear at Mass this Sunday (Matthew 18:21-35) speaks of a different kind of rationing. Sacrifices of commodities don't win a war. Nor does cutting back on spending to make ends meet. Rather, it is a rationing of mercy and forgiveness.
In the Parable of the Unforgiving Servant Jesus tells that the key to forgiving others is to remember just how much we have been forgiven by God despite our unworthiness. It is a message that we need to hear because it is tempting to ration forgiveness. Indeed, how easy it is to show mercy only to those whom we think deserve it.
This parable confronts us. For the Christian, there is no rationing of forgiveness and mercy. They are to be endless and given without calculation. The Lord does not ration the Divine Mercy. God's forgiveness is linked to our forgiveness of others.
How can we cooperate with God's forgiveness to be able to forgive others, especially within our families?
Bishop Robert Barron has some sound suggestions. First, we need to be mindful of our sins and the need for mercy. Second, we should take advantage of the opportunity of frequent confession. In this Sacrament, the Lord's mercy reaches out to forgive our sins and restores us to grace. Third, be quick to forgive. Otherwise, the offense against us can burrow deep inside the heart. There grows to become a grudge that can metastasize into bitterness. Do not give sin that opportunity.
Finally, forgive through a concrete act. In addition to offering an apology, do something that shows love and respect. Make a phone call, write a note, or offer a gift. Forgiveness becomes more tangible and effective through such actions.
Our Parish
Parking Lot Update
The latest phase of resurfacing the west side lot is near completion. A new layer of asphalt has been applied but only partially striped. The lot will be open for use this weekend. You are also welcome to park in the north side and east side lots.
The final phase will begin on Monday. The west side lot will be closed off to allow for repairs to the entryways off and Ithica Street, and for the restriping of the entire lot.
Thank you for your patience while this much-needed work is being done.
Confirmation Retreat
Those youth of our parish preparing for the Sacrament of Confirmation will be on retreat this weekend. Please keep them in your prayers.
Blessing for Catechetical Sunday
There will be a blessing at all Masses this weekend to mark Catechetical Sunday. All of our parish catechists, as well as teachers and administrators in Catholic schools, public schools, and home schools, will receive a blessing for the new school year.
Prayer Vigil
On Thursday, September 21, Anthony Sanchez will be executed at the Oklahoma State Penitentiary in McAlester for the 1996 murder of Juli Busken. In peaceful opposition to the death penalty, a prayer vigil will take place near the gate of the penitentiary starting at 9:00 AM. Prayers will be offered for Busken, Sanchez, their families, and the correction officers taking part in the execution.
I will be taking part in this vigil. Those who may wish to go to McAlester are welcome to contact the parish office for more information. Those not able to go are invited to pray that morning for this intention at the St. Scholastica Adoration Chapel.
TMIY
That May Is You (TMIY) has resumed with entirely new content. This men's ministry meets on Wednesdays from 6:00 AM to 7:15 AM. All the men of the parish are welcome to participate.
Faith Formation
Our parish Faith Formation for children and youth has also resumed. The Sunday morning group meets after the 9:00 AM Mass. Those that meet on Wednesdays begin at 6:30 PM.
Garage Sale
The annual Parish Garage Sale is next week. Items can be dropped off in McGuire Hall starting on Tuesday, September 19. The sale will be open to parishioners only on Thursday, September 21 and the public on Friday, September 22, and Saturday, September 23.
40th Anniversary Celebration
The 40th Anniversary of the dedication of our parish church will be celebrated on the weekend of October 7-8. This includes a dinner for the founding members of the parish following the Saturday Vigil Mass. The next day Bishop Konderla will celebrate the 9:00 AM and Noon Mass. There is a reception after the 9:00 AM Mass. Following the Noon Mass there will be a BBQ picnic. All are welcome.
God bless and keep you safe.
Fr. Bryan