Pastor's Message – Church of Saint Benedict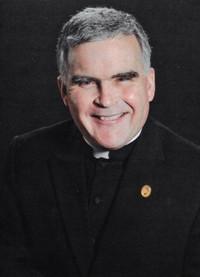 October 8, 2021
Friday of the Twenty-Seventh Week in Ordinary Time
The Gospel reading for Mass this Sunday is from Mark 10:17-30. Jesus continues to give practical instruction on how to live as faithful disciples. Last Sunday, the focus was on marriage and family. This time, it is on wealth and property.
In one of the better-known scenes in the Gospels, Jesus asks a young man of wealth to become a disciple and follow Him. It is one of the more frustrating scenes as well because the man's answer is no.
It's clear the rich young man has much going for him. He recognizes in Jesus something good and holy. He actively seeks out Jesus, literally running to the Lord. The man desires to encounter wisdom, truth, and longs for eternal life.
If that was not enough, the man is living a righteous lifestyle, one pleasing to God by keeping the Ten Commandments. He appears to desire something more than ritual and religious observances. How can one say that his heart is not in the right place and that his intentions are not good?
It makes it all the more puzzling that he walks away from Jesus after being asked to sell his possessions and give the proceeds to the poor.  
Neither in this passage nor anywhere else does Jesus condemn wealth. While greed is one of the Seven Deadly Sins, what is condemned here is the false security that wealth can bring. With this false security comes a divided heart. To be a faithful disciple is to love both God and neighbor with an undivided heart. This is what keeps the young man, with all his good intentions, from becoming a disciple.
In relationship to material wealth, different saints have reacted in different ways. St. Francis of Assisi literally gave away all his possessions and embraced radical, physical, and spiritual poverty. St. Katherine Drexel used the wealth that she had inherited to educate poor children, specifically the children of Black and Native Americans.
Wealth, no matter the amount, as well as faith and grace, are to be seen as gifts from God. They are to be used for the benefit of others. We do so so that Jesus can be loved with an undivided heart.
The young man's reaction is a challenging reminder that neither the best of intentions nor having a heart in the right place is enough. Looking upon us in love, Jesus challenges us to abandon whatever gives us a false sense of security. Perhaps it is our material possessions or maybe is it spiritual pride and self-righteousness.
Perhaps it is our fear. It is the fear that we will stand before the One who is Love itself, and He will not look upon us in love. Fear and anxiety divide us from Jesus and each other.
But the basic Truth of the Gospel is that Jesus does look upon us with love. As our Lord and Savior, He challenges us to leave behind the false security, the divided heart, the fear, and anxiety. We are to enter into a fuller communion with Him and each other. It is in that Divine Love that we are offered the gift of eternal life.
Rosary Rally, 40 Days for Life and MOCtoberfest
There are two special events on Saturday, October 9, that concern our parish. The first is the annual Rosary Rally that will be at Noon in the church parking lot. October is the month of the Rosary. We are also in the midst of the 40 Days for Life, the annual prayer vigil to pray for the unborn and their families. Rally is an opportunity to pray for this intention.
Our parish's time at the Garden of Hope for the 40 Days for Life is Thursday, October 28. Signup for volunteers is located in the church commons.
MOCtoberfest is also tomorrow, from 11:00 am to 8:00 pm at St. Anne Parish. It is a family-friendly event with food, drink, games, and music. The proceeds will benefit the Ministry of Compassion, the Catholic Charities of Eastern Oklahoma outreach, in Broken Arrow. All are welcome to attend.
Catholic Charities Appeal
The annual appeal continues. Those who wish to donate or make a pledge are welcome to bring their envelopes to Mass this weekend. You can also donate online at cceok.org/donate. For information on how to support the Afghan refugees, you can learn more at cceok.org/refugees. Thank you for your generous support.
Good Shepherd Nursery
The parish nursey is now open for both the 9:00 am and Noon Mass each Sunday for children ages three and under.
Health Fair
There will be a Health Fair at the parish on Sunday, October 24, from 10:00 am to 2:00 pm. The Caring Nurses Association will be present to give the Quadrivalent Flu Shot. For more information, please contact Jeanne Draughon, our parish nurse, at jeannedraughon@saintben.org.
Priest Retreat
Both Fr. Porter and I will be on retreat the week of October 11-15. We will be joining more than 30 priests of the Diocese at Subiaco Abbey in Arkansas. There will be Communion Services in place of daily Mass. There will be daily Mass at St. Anne Parish. Fr. Healy will be available for emergencies requiring a priest. Please keep us in prayer.
God bless and keep you safe.
Father Bryan