Pastor's Message – Church of Saint Benedict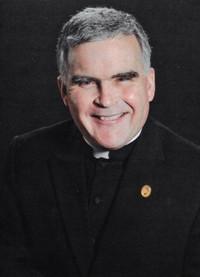 March 24, 2023
Friday of the Fourth Sunday of Lent
By your help, we beseech you, Lord our God, may we walk eagerly in that same charity with which, out of love for the world, you Son handed himself over the death. Through our Lord Jesus Christ, your Son, who lives and reigns with you in the unity of the Holy Spirit, God, forever and ever.
Collect for the Fifth Sunday of Lent
Brothers and Sisters,
Beginning this Sunday, we enter into the final two weeks of Lent. Traditionally, these last weeks are known as Passiontide and they take place from the Fifth Sunday of Lent to Holy Saturday. As is custom, we are covering the sacred art in the church sanctuary with veils with violet colors, the liturgical color of Lent. We encourage you to do the same in your homes!
This veiling is a reminder that the joy of Easter is almost here. But before we get there, we must accompany Jesus in His Passion and Cross. Our Lenten observances prepare us to enter these profound realities of our salvation during Holy Week.
The Gospel reading for Mass this Fifth Sunday of Lent is on the Raising of Lazarus (John 11:1-45). Again, there are the themes of encounterance and accompaniment (invitation). Jesus encounters people and then invites them to conversion and new life in Him. Jesus did so for the Woman at the Well and the Man Born Blind.
This time, there is a difference. Unlike the Woman at the Well and the Man Born Blind, those who encounter Jesus are already His disciples and friends. This time, the invitation isn't just to believe that Jesus has power over illness through miraculous cures, but to believe that He has power over death itself.
He offers this accompaniment to Martha and Mary in their grief and invites them to believe in Him as the resurrection and the life. Those who believe will live in the Kingdom of Heaven for eternity. As a sign of this, Jesus raises their brother Lazarus from the dead and calls him to walk out of the tomb.
Jesus offers this invitation to us today as His disciples. He accompanies us in our grief and desolation. He calls us to rise up from whatever is leading us to death, be it our sins, despair, or indifference.
The Raising of Lazarus preludes the Resurrection of Jesus that we celebrate on Easter Sunday. Passiontide invites us to profess as Martha does, "Yes, Lord. I have come to believe that you are the Christ, the Son of God, the one who is coming into the world."
Lenten Reconciliation Service
Passiontide is a great time during Lent to make a good confession. Our parish Lenten Reconciliation Service will be on Wednesday, March 29, from 5:00-7:00 PM. Several priests will be available to hear individual confessions.
Other confession times this week will be on Saturday from 3:30-4:45 PM, on Sunday 45 minutes before each Mass, and on Tuesday from 6:00-7:00 PM. There will be extended confession times during Holy Week.
Our Parish
Congratulations to Margaret Rose Stika who was baptized on March 18.
Our condolences go out to the family of Janice Steele who died recently at the age of 81. Her funeral Mass is on Saturday at 11:00 AM in the parish church.
Please keep the high school youths on retreat this weekend in your prayers, along with those children and their families participating in the First Communion Prayer Day this Sunday.
Our Lenten Talks continue this evening with a meatless meal at 6:00 PM in McGuire Hall. Fr. Alessandro will speak on Eucharistic Miracles in the church at 6:40 PM. Stations of the Cross will begin at 7:30 PM. All are welcome.
Palm Sunday
Holy Week begins with Palm Sunday on April 2. There will be a distribution of blessed palms at all Masses. Both the 9:00 AM and Noon Mass will begin by gathering outside at the bell tower (weather permitting) and process into the church. In case of rain, we will start in the church commons.
Divine Mercy Initiative
Divine Mercy Sunday lands on April 16, a week after Easter. The Devine Mercy devotion is about placing our trust in Jesus as Lord and Savior. Our parish will have a unique opportunity to share the message of Divine Mercy during the Easter Season. Parishioners are encouraged to place a Divine Mercy sign in their front yards. The yard signs will have a QR code sticker that can be scanned by a mobile phone that will link to our parish website.
If you would like a sign, each one will cost $10, with $2 going to support youth ministry in our parish. You can sign up for the Divine Mercy Initiative in the church commons starting this weekend. The sign will be available for pick up by Divine Mercy Sunday.
God bless and keep you safe.
Fr. Bryan